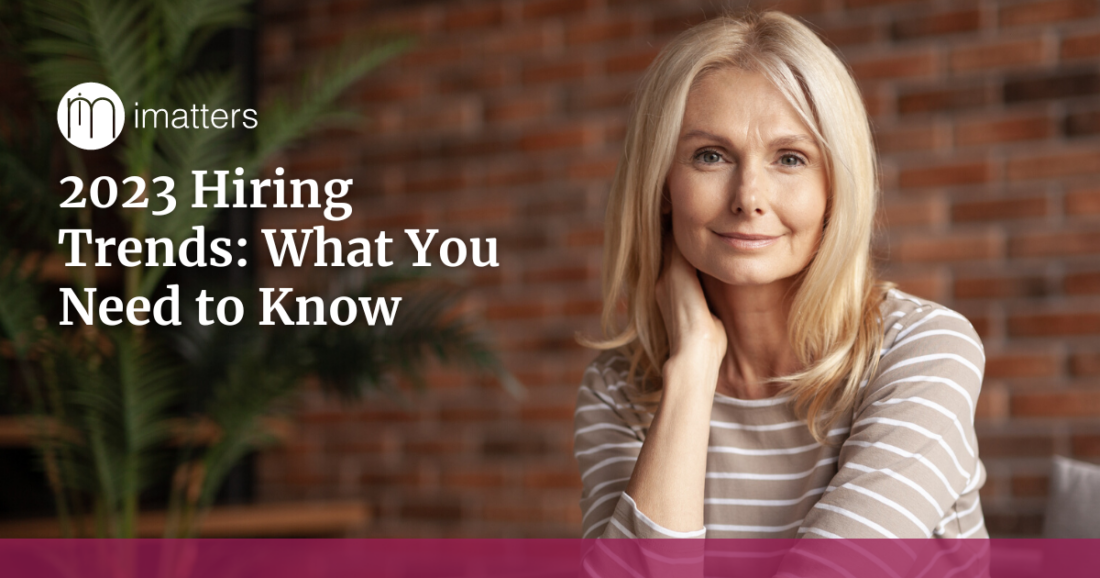 2023 Hiring Trends: What You Need to Know
How do you plan to handle hiring in 2023? You're probably already considering this question—and if you aren't, you should start—but planning for an entire year, especially when a recession may be imminent, can be tough.
Among other questions, you may be wondering: 
What will the market look like? Will a recession happen, and can I still hire if it does?

 

Will I have trouble attracting candidates? How do I go about it?

How do I improve my employee retention?
Here's a look at what to expect in 2023, and how employers can effectively handle hiring this year.
State of the market
To begin, yes, many people expect a recession at some point this year. Still, experts are unsure of its impact, with many expecting a "small r" recession—similar to the small recession we experienced due to the pandemic.
Don't let high-profile layoffs at large tech companies scare you either. Despite rising inflation, the labor market remains strong, and those layoffs are largely related to a trend of over-hiring as we came out of the pandemic. The unemployment rate fell to 3.5 percent in December of 2022, and even with slowed hiring due to recession fears, analysts still expect low unemployment numbers to continue into this year. 
Another important factor to consider: many employers are still relatively optimistic. According to iHire's "Hiring & Job Search Outlook Report," 68.1 percent of employers expect to increase hiring this year, and roughly half of those included in the survey expect to hand out pay raises, too. 
So, hiring will be easy this year, right?
Let's pump the brakes a little bit. Although optimism remains, eye care hiring may not be the easiest this year. The same iHire report shows that about 74 percent of employers are concerned with the difficulties of attracting qualified talent and/or talent shortages. Roughly half of all surveyed employers are concerned with employee turnover in 2023 as well. 
However, these concerns don't have to hamper your hiring in 2023. Remember, the best way to navigate a difficult economy is to have the right people in the right positions on your team—organizational growth starts with great leadership. 
Although belt-tightening is a natural response to tough economic conditions, doing so in the wrong areas or in the wrong amount can hinder your growth. Losing out on quality talent, especially in an industry as vital to people's health and daily success as the eye care industry, is never good. 
Consider investing the same or more resources into the following strategies to aid your hiring this year: 
Outsourcing recruitment efforts: Whether in an effort to aid your internal team or to handle all aspects of hiring,

recruiters can supercharge your hiring

. We have access to high-quality, passive candidates, the kind that aren't necessarily seeking a change but have the expertise and knowledge to fortify your team. Plus, recruiters can handle hiring faster than an internal team can alone, meaning you don't have to deal with the harsh realities of a prolonged opening.

 

Employer branding: Building a strong employer brand can showcase your values and what makes your organization unique, encouraging candidates with similar values to work with your team.

 

Use digital strategies: From industry-specific job boards, such as

imatters' job

board

, and general job sites to social media, such as

LinkedIn

, it's important to find the spaces online where high-quality talent is active. Get in front of these audiences with specific messaging and, if possible, targeted campaigns that highlight the role or your organization.

 
Employee retention
It's one thing to find and hire great eye care talent. It's another to actually retain that talent. Fueled by the Great Resignation, employee retention has been tough in these past few years, and the numbers back it up—about one-third of new employees quit after only six months. 
Improving employee retention starts with an internal look at your own processes. What could be improved in the onboarding process? How can you align employee expectations and those of the employer? Additionally, it's important to avoid common hiring mistakes, such as failing to prepare or waiting too long to hire, that serve as self-inflicted hinderances to your organizational growth. 
Beyond that, it's important to listen to your team. We're in an era of high workforce empowerment, meaning you need to really hear your team's concerns and respond accordingly. For instance, roughly 55 percent of workers expect to pursue more professional development opportunities in 2023 than they did in 2022. As an employer, it's your responsibility to invest in your employees' growth. Doing so will not only benefit your employee retention but will help you build a more robust team, improving performance and results. 
Other important factors that will aid in employee retention include creating an environment that reflects a strong work/life balance, offering opportunities for flexibility, showcasing and living company values, promoting and hiring from within and, of course, offering strong compensation and benefits packages. 
---
We get it, eye care hiring in 2023 is no easy task, but that's where we come in. We can help you establish a strong employer brand, reach top eye care professionals and handle hiring no matter what the economy may bring. We've worked in this space since 2003, and we've experienced our share of hiring markets. Schedule a consultation—let us put our cumulative knowledge and extensive expertise to work for you.