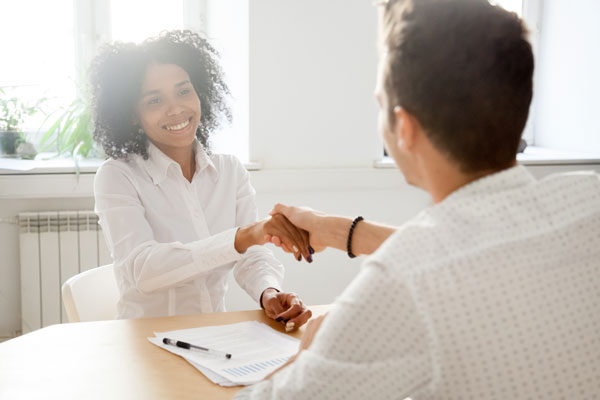 3 Advantages of Using a Recruiter for Your Next Hire
Turnover in the workforce happens, but that doesn't mean finding a new candidate has to be hard! That's where imatters comes in! When using a recruiter like imatters, we do the heavy lifting for your hiring process so you and your team can focus on what's most important, your work! 
If you've never worked with a recruiter before, there are many advantages we can share, but here are our top 3!
Faster Hiring
Have you ever thought about the cost of not having an employee filling a vacant seat on your team? According to a study done by SHRM, the average time to fill an open position is 36 days. Inventive.io shared an excellent example to put this opportunity cost into perspective. Let's take a look at this scenario from an eye care viewpoint!
You have a full-time optometrist that puts in their 30 day notice.
We can estimate your lost opportunity cost for this employee with just a few assumptions like average patients/day = 20-25 and that your OD (making about $650/day) generates 2.5-3x their income. At $650 per day, five days a week, your revenue for one OD would be around 8,000 – 10,000/week.
As soon as this employee is gone, you lose the ability to see patients. While the average time to fill a standard position 36 days, we estimate 6 weeks minimum for an OD position.
So let's take 6 weeks and subtract their 30 day notice to determine how many weeks you will be without an OD.
In this scenario you are losing two or more weeks of employee work. Two weeks in this position translates to $16,000 – $20,000 of revenue!
Can you afford not to work with imatters!
By focusing our networking and business on the eyecare industry, we can reach a vast talent pool you wouldn't reach with a standard job posting. As it's our sole focus to find the right candidate for you, using a recruiter like imatters can shorten the time it takes to fill your open positions, reducing your lost opportunity costs. 
You hired us to do the work! 
When an employee puts in their two weeks, a few things are probably going through your team's mind.
We need to post the job and start the hiring process.

We need to prepare to train a new employee.

And – How are we going to manage that department's workload? 
When an employee leaves, it is inevitable that workloads will shift, and you or your team will dedicate time to new areas. The best way to lessen the workload of a new hire is to hire a recruiter. Many businesses spend 40+ hours in the hiring process: posting jobs, responding to candidates, and setting up or conducting interviews. 
Inventive.io had another great scenario of opportunity cost lost when spending time on hiring a new team member. 
"… consider the time spent by existing employees in finding the right hire. Using the two-week estimate … for recruiting and interviewing, let's say we're devoting an average of 1 person's time for two weeks. … Assuming the employees helping with recruiting and interviewing are also billing out on $100/hour contracts, there goes another $8,000 of lost opportunity."
Let imatters lessen this workload by allowing you to focus on the essential work for your business!
Quality Candidates & Reach
The final and most significant advantage of working with imatters as your recruiter is our candidates. You may have heard us say we have one of the best candidate pools in the industry, but what does that mean? 
Passive Candidates
Workonic shared that more than 73% of job seekers today are only passively looking for a job. So how do you reach those individuals? With our help! We estimate about 60% of our placements are from passive candidates. 
Specialized in Eyecare
Have specialized needs for an Ophthalmic Surgical Coordinator, Licensed Optician, or Optometrist? When working with candidates, we ask about their experience and specialties to recommend the best candidates for your job opening. 
Have an immediate hiring need or want to learn more about imatters? Contact us today!